Quality & Safety
From customers' actual requirements research, design, manufacturing, to installation and service. Our expertise and experience in the products & solutions will ensure your success.
Solutions
One requirement with multiple solutions available from powerful technical team, to meet any of your research and budget, we believe the most suitable is the best.
Industries
Be the world most competitive lab solution provider in different industries, use us to your advantage.
Advantages Of Our CBD Extraction Products
MOLECULAR DISTILLATION EQUIPMENT
All Borosilicate 3.3 glass design for a perfect view on the separation process.

The very low operating pressure ensure very low distillation temperature and therefore a very gentle distillation is possible.

Various size options for different throughput.

Turnkey package which is plug-and-play, technical supports available.

upgradable for continuous distillation process.
SMALL CBD ESSENTIAL OIL EXTRACTOR EQUIPMENT
By steam-distillation to reach the extraction of essential oils.
Easy operation. One person can operate this machine easily.
High efficiency. Using indirect heating of heat- transfer oil, it can quickly reach 100C high temperature under the conditions of cleanness, safety, and atmospheric pressure.
Compact structure. It covers only about 1.5 square meters.
ROTARY EVAPORATOR
State-of-the-art design with single controller panel and motor lift

Best value choice for lab rotary evaporation

Volume options: 0.25 – 5L

Available in both 110V and 220V

Heating bath options: water (99C) or oil (180C)

4 different condenser options: vertical coil, diagonal coil, cold trap, reflux
SUPERCRITICAL CO2 EXTRACTION
Touch screen control, convenient and quick.
High efficiency extraction, the oil content in the residue is less than 1.5%.
Green separation technology, safe, environmental protection without pollution.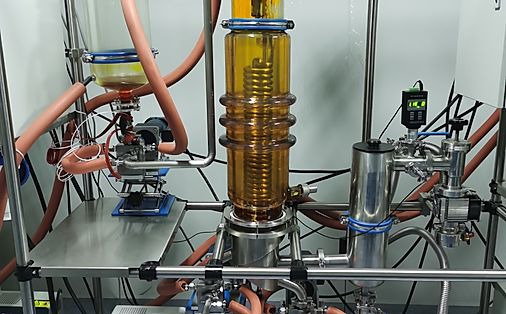 Wuhan, Hubei, China
+086 155 2720 9155
– open 7 days a week from 7am to 9pm –